The Columbia Missourian. Grace Jo shares story of North Korea escape at institute launch
Grace Jo shares story of North Korea escape at institute launch
Feb 9, 2017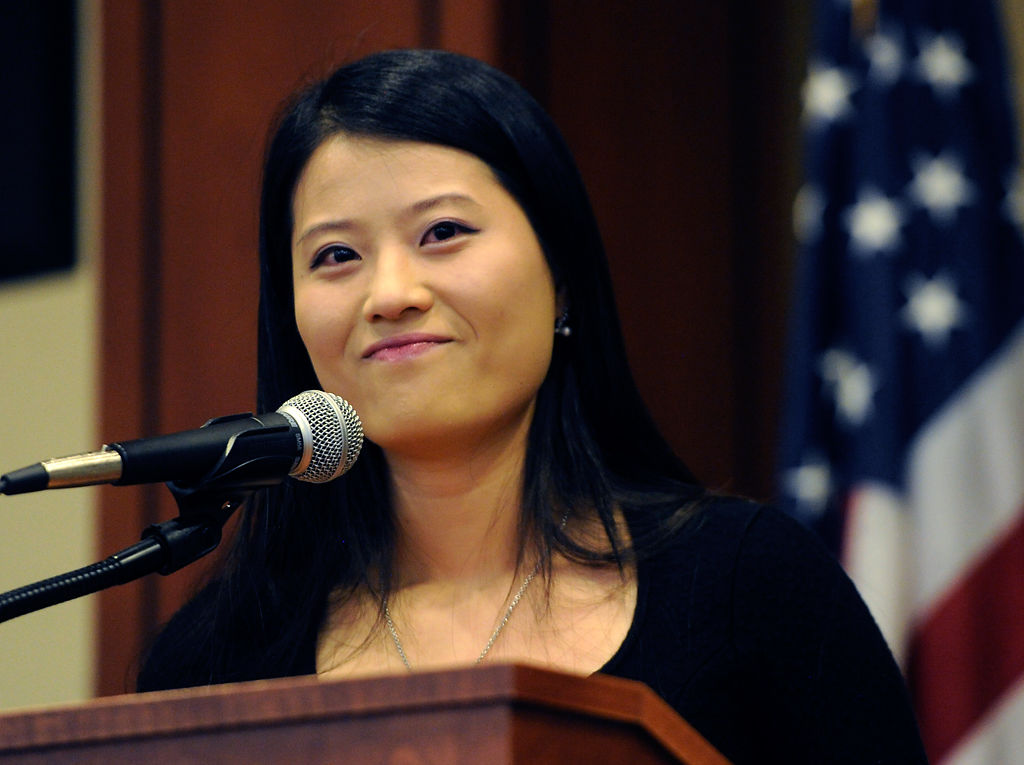 COLUMBIA — Grace Jo still remembers having to cross the Tumen River, which forms the border between China and North Korea.
The water was flowing fast after a hard rain, and it reached her mother's knees. To stay above the water, then 6-year-old Grace had to climb into her mother's backpack. After an hour, Grace, her mother and her 10-year-old sister successfully reached the other side.
That was one of several stories Jo shared about escaping North Korea during her speech at the Thursday launch of the newly-created MU Institute for Korean Studies.
Sheena Chestnut Greitens, an MU assistant professor of political science, and Harrison Kim, an assistant professor of history, said the institute focuses on research and will specialize in topics such as inter-Korean relations, the history of socialism and refugees and migration.
The MU Asian Affairs Center, department of history and department of political science currently fund the institute, but co-director Kim said it's in the process of applying for external funding sources. The goal is for the institute to have a steady flow of funds for research.
Jo spoke to a crowd of more than 100 people in Jesse Wrench Auditorium. Gov. Eric Greitens, MU Interim Chancellor Hank Foley and Interim UM System President Mike Middleton were among the audience members.
Jo currently attends Montgomery College in Maryland and hopes to continue working in human rights when she graduates. She is the vice president of the organization NKinUSA, a group dedicated to highlighting human rights violations in North Korea and helping North Koreans refugees escape and resettle in other countries. 
Jo was chosen as the event's speaker to spread awareness about the experiences of North Korean refugees. 
"As a survivor, I think it is our mission to speak to the people," Jo said. " I'm very happy that many people are interested in human rights in North Korea."
Jo said she is one of 214 North Korean refugees who have settled in the United States. According to the film "I Am Grace," which was screened at the institute's launch, more than 300,000 North Koreans have defected since 1953.
Jo was born on July 18, 1991, in North Korea. Throughout her childhood, she said food was scarce.
It was so scarce that her grandmother and two younger brothers died of starvation. Her father was caught crossing into China to find a bag of rice to feed his family and later starved to death in prison. Jo's oldest sister also traveled from North Korea to China in search of food, but never returned. Jo hasn't seen her sister in 18 years and believes she was sold to human traffickers.
After losing almost her entire family, 6-year-old Grace, her 10-year-old sister and her mother started the journey to China in July 1998.
"We walked for several days and several nights," Jo said. "It was July, so it was very hot during the day and very cold at night. My mother was anxious because if the guards found us, we would be sent to a political prison camp." 
Two years passed as the family traveled the countryside. But they were eventually caught and sent back to North Korea. Between 1998 and 2006, Jo was repatriated twice, and her sister and mother were repatriated four times.
Jo didn't want to give up. She continued her escape attempts and hoped for a better life.
"Every day we lived under a scary life. Whenever we heard police sirens, we had to go and hide somewhere," Jo said. "We wanted to live like a human being, and that's why we took great risks to go to South Korea or to America."
In December 2006, Jo gained protection from the UN Refugee Agency. She came to the U.S. in 2008 with the help of a Korean-American missionary who raised $10,000 to help free Jo and her family.
Her transition to the U.S. wasn't easy, Jo said. Jo's older sister had to work multiple jobs to support the family as their mother's health declined. And since Jo wasn't able to go to school while she was in China or North Korea, she had to work while attending high schools at night.
In 2015, Jo got her high school diploma and her license to be a dental assistant. She gained citizenship in 2013, an accomplishment Jo said was worth her hardship.
"I think about those adventures we had been through ... I felt like finally, I belonged to somewhere. I belong to this country."
http://www.columbiamissourian.com/news/higher_education/grace-jo-shares-...